See How Close We Are To The Beach
When you stay at Rodney Dunes Pier 12, you never have to worry about crossing streets to get to the beach.
You also don't have to worry about having to walk a long way, lugging all your beach chairs, towels, toys, kids, etc.
If the little ones need to go back for lunch or a nap or if they have to go to the bathroom, it's so easy when you
stay with us. We are located approximately 100 feet to the beach.
The first picture below shows an aerial view of how close we are to the beach. The red dot represents our location
on Rodney Ave. with the beach and ocean to your right and Route 1 to the left.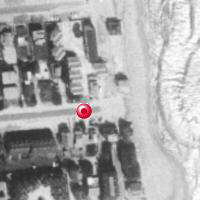 The following pictures below show you just how close you are from the beach path .

This is looking from out front of Rodney Dunes Pier 12 to the entrance to the beach.
Just go over the dune and you are there.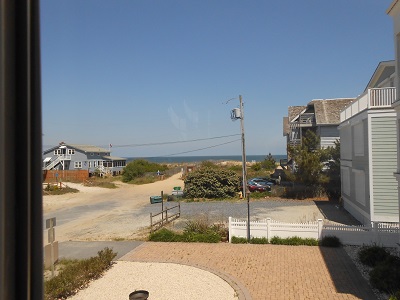 This is the view from Apartment B
This is looking at our building from the dune path entrance to the beach.
We are a perfect location for families with small chidren or for older guests.
Rodney Dunes Pier 12 Apartments
12 Rodney Ave. Dewey Beach, Delaware 19971
Office 302-270-2894 or 302-227-0938 | Reservations 302-270-2894 or 302-227-0938 or
Email: beachlady@deweyrental.com
Dell and Larry Tush, Owners/Managers
Web page designed and created by Dell Tush
Copyright, all rights reserved
No parts of this website may be copied or reproduced without the written consent of the owner